Michael Cohen Hits Possible Trump Lawyers With 1 Word Of Advice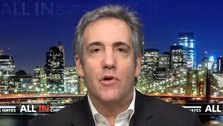 Michael Cohen, who served as Donald Trump's lawyer and fixer for more than a decade, had a stark recommendation for attorneys who may be considering working with the former president.
As Trump reportedly faces imminent charges over a hush-money payment to adult actor Stormy Daniels, which saw Cohen himself convicted and sent to prison, the lawyer told MSNBC's Chris Hayes on Friday:
"The smartest thing that a lawyer can do, if Donald Trump asks you to represent him in this nightmare that he is going to be living: run."
"Run as fast as you can. And don't run to Florida and especially not Palm Beach. Run someplace east or west, but definitely don't get involved with Donald. That's what I would say," he added.
Cohen said Trump until now had avoided accountability and always thrown those surrounding him under the bus.
The revolving door of lawyers now working with Trump was a "clown show," Cohen continued. He imagined them "coming out of a Mini Cooper with floppy shoes and a red nose because what they're saying makes no sense."
Video of new Trump lawyer Joe Tacopina trying to grab a piece of paper from MSNBC's Ari Melber during an interview went viral this week.
"There's so many more people that are around (Trump) in terms of lawyers, that the big joke that's out there now is that 'MAGA' really stands for 'make attorneys get attorneys,' and sadly that's really the truth," he added.
Watch the full interview here: